Americans Whistleblower Tour: Models of Courageous Citizenship
In addition to the public events and panels listed below, Robert Shetterly will give two private presentations for students and fellows at Syracuse University, including one on Narrative Activism.
Says Shetterly, "I will give an overview of the Americans Who Tell the Truth portrait & education project, how it began, why, and what it has become. I will focus on the lives and work of several of the portrait subjects as they struggled for some kind of social, economic or environmental justice. We will see that most schools and media neither teach the work of these people nor the fact that without them the reality of life in the US would continue to be hypocritically separate from its own ideals. The point is that we need to know these people as models and inspiration for the work all of us need to do as citizens. They give us permission and encouragement to become activists. That's Narrative Activism. And we will stress the power and importance of a single person acting with courage and persistence."
From Syracuse University News:
Syracuse University, in partnership with Upstate Medical University, SUNY Cortland and ArtRage, will host "American Whistleblower Tour: Models of Courageous Citizenship" with a series of events to be held this month. Part of a national campaign sponsored by the Government Accountability Project (GAP), theWhistleblower Tour seeks to educate the public—particularly university students—about the phenomenon and practice of whistleblowing.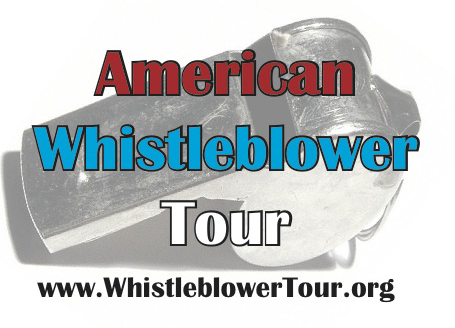 "Leaks, leakers and whistleblowers—this is a hugely important area not only in the debate over government regulation and surveillance but in journalism circles, especially with issues of reporters' confidentiality and newsgathering," says Roy Gutterman, director of the Tully Center for Free Speechat the S.I. Newhouse School of Public Communications and one of the organizers of the conference. "Bringing these whistleblowers to Syracuse to discuss their role in debates on public affairs will help bring these issues to our students and the community."
On Wednesday, March 26, at 7 p.m. in the Joyce Hergenhan Auditorium in Newhouse 3, a panel discussion will feature several whistleblowers who will also visit classes at the three universities. They include the following:
Louis Clark (event moderator), president of GAP and director of its corporate accountability program
Thomas Drake, former senior NSA official who was prosecuted under the Espionage Act by the Department of Justice
Jon Oberg, who discovered and investigated illegal payments of federal tax dollars to student loan lenders while working at the Department of Education
Jesselyn Radack, who revealed government mishandling of the interrogation of "American Taliban" John Walker Lindh and who currently represents NSA whistleblower Edward Snowden
Michael Winston, who sued Bank of America for wrongful termination and retaliation against him for his refusal to mislead Moody's
Susan Wood, a champion of women's health who quit a position with the Food and Drug Administration when she concluded that politics were delaying the approval of Plan B, also known as the "morning-after pill"
In addition to the panel discussion, several additional public events and exhibitions will be held:
Wednesday, March 12 at 7 p.m.: Screening: "The Insider," ArtRage
March 18-April 11: Exhibition: "Portraits of Americans Who Tell the Truth" by Robert Shetterly, 914Works
Tuesday, March 25 at noon: conversation with Wood, 2231 Weiskotten Hall, Upstate Medical University
Tuesday, March 25 at 7 p.m.: conversation with Winston and Clark, ArtRage
Tuesday, March 25 at 4:30 p.m.: conversations with Oberg and Clark, SUNY Cortland
Thursday, March 27, at 12:30 p.m.: "Conversations in Conflict Studies" with Oberg, PARCC, Maxwell School, 400 Eggers Hall
Thursday, March 27, at 8 p.m.: concert: Contemporary Music Ensemble, Setnor Auditorium, SU
In conjunction with the event, Shetterly will also give several guest lectures at the College of Visual and Performing Arts (VPA).
In addition to Newhouse and VPA, participating schools at SU include the Maxwell School of Citizenship and Public Affairs and the Martin J. Whitman School of Management.
GAP is the nation's leading whistleblower protection organization. Through litigating whistleblower cases, publicizing concerns and developing legal reforms, GAP's mission is to protect the public interest by promoting government and corporate accountability. Founded in 1977, GAP is a nonprofit, non-partisan advocacy organization based in Washington, D.C.